Insights
VBC encourages healthcare providers to deliver high-quality care that produces better patient results, rather than incentivizing them to perform as many procedures as possible.
VBC models positively impact all three sectors of healthcare delivery; payers, providers, and patients. Payers can share financial risk, define quality standards, and design care contracts with reimbursement calculations. Patients can benefit from reduced healthcare costs, better access to healthcare data across different delivery organizations, and a more comprehensive, one-stop-shop approach to healthcare.
The VBC model incentivizes healthcare providers to prioritize outcomes that matter most to patients. This includes improving overall health, minimizing complications, and reducing readmissions. When we think of the impact of VBC on providers, the first thing that comes to mind is reimbursements. However, VBC is much more than just financial incentives. It is a transformation of healthcare delivery that puts quality over quantity and encourages collaboration and coordination among providers.
Value-Based Care (VBC) is a revolutionary approach to healthcare delivery that focuses on optimizing patient outcomes while also containing costs. Unlike traditional fee-for-service models that incentivize healthcare providers to perform as many procedures as possible, VBC models encourage providers to deliver high-quality care that produces better results for patients. It's all about quality and efficiency over volume!
Providers face challenges when it comes to embracing VBC arrangements with payers, such as the ever-evolving landscape of VBC, regulatory constraints, and complicated payer contracts. However, VBC has the potential to improve clinical outcomes, reduce the total cost of care, and improve financial gains.
From Buzzword to Reality: How VBC is Revolutionizing Healthcare Delivery
As healthcare continues to evolve, so does the adoption of alternative payment models (APMs). According to a recent Survey conducted by AHIP, there was a positive uptick in the adoption of APMs in 2020 despite the pandemic. While only 38.2% of healthcare payments flowed through APMs in 2019, this figure increased to 40.9% in 2020, indicating a promising trend towards the adoption of alternative payment models.
The use of Certified Electronic Health Record Technology (CEHRT) by ambulatory physicians has also increased in recent years. According to a 2019 study by CDC, 72.3% of ambulatory physicians use CEHRT. This technology has become increasingly important in healthcare delivery, and ONC's HealthIT.govreports that across all hospital types, over 95% have certified EHR technology.
Navigating the Transition to Value-Based Care: Overcoming Provider Challenges and Embracing the Future of Healthcare Delivery
Providers face a myriad of challenges when it comes to embracing Value-Based Care (VBC) arrangements with payers. The ever-evolving landscape of VBC, different quality measures, regulatory constraints, and complicated payer contracts make it difficult for providers to navigate this new territory. Add to that the challenges of reporting overhead, lack of actionable insights and streamlined approach, and interoperability of systems, and it's no wonder that some providers are hesitant to make the switch.
Feeble data capture mechanisms and the lack of transparency of VBC effectiveness measurement metrics further complicate the matter, making it difficult for providers to translate the quality of care they provide into positive metrics. Revenue streams can be unpredictable, interoperability can be challenged, patient engagement can be difficult, and governance can be ineffective.
Despite these challenges, however, VBC has the potential to improve clinical outcomes, reduce the total cost of care, and improve financial gains. Providers need the tools and resources necessary to streamline the VBC workflow at the point of care, so that they can embrace this new model and realize its full potential. Ultimately, it will take a concerted effort from all stakeholders to make VBC a reality, one physician and one facility at a time.
There are different implications of VBC in the healthcare provider market. Here are some aspects that the providers need to consider or the proper implementation of VBC.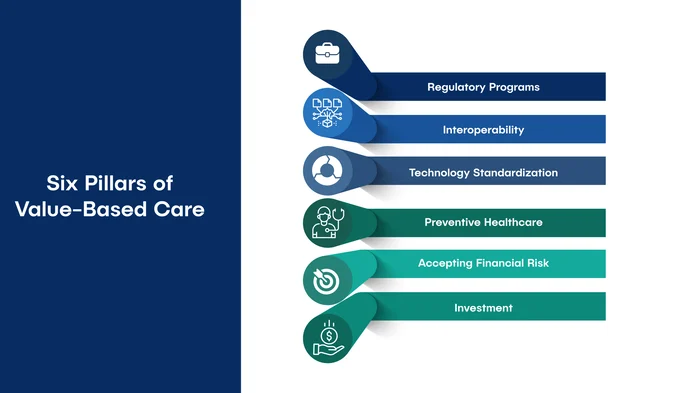 Complete Focus on Customer Outcome Improvement:

Value-based care model rewards providers for high-quality care and penalizes subpar care, leading to increased focus on improving patient outcomes.

Collaboration Is A Must:

Value-based care models require collaborative and coordinated care among primary care physicians, specialists, and other healthcare providers to ensure patients receive appropriate care. This approach demands more interconnectedness and closer collaboration among providers than before.

Adapt To Different VBC Models:

Regulatory programs have introduced alternative payment models that incentivize providers to deliver innovative high-quality care. Providers who introduce novel and creative ways to enhance patient outcomes stand to gain financially. This has spurred innovation and dynamism in the provider market.

Embrace Different Technologies:

Technology plays a critical role in value-based care models, enabling coordinated and high-quality care delivery. Providers need to be proficient in using technology to communicate with patients, track outcomes, and coordinate care. Providers who are hesitant to adopt new technologies may face challenges competing in the value-based care market.

Integration of Learning Teams: Integrating learning teams from diverse disciplines is necessary for implementing comprehensive solutions in healthcare. Such teams eliminate the need for coordinators and promote effective communication through informal channels, thereby improving care outcomes. Collaborative thinking and learning help personalize care and improve health outcomes. This team structure can extend across locations, delivering world-class care locally and eliminating the need for patient travel.
Revolutionizing Healthcare: The Shift Towards Value-Based Care
Value-based healthcare is an evolving concept that aims to enhance patient outcomes while reducing healthcare costs. In recent years, several emerging trends have been shaping the future of value-based care:
SDoH and Population Health Management Approach: SDoH and PHM: The significance of SDoH is gaining momentum, impacting patient outcomes and healthcare costs. PHM is an indispensable factor in achieving preventive healthcare goals and plays a crucial role in VBC. PHM strategies are proven to be efficacious in reducing healthcare expenses by identifying issues at an early stage. The HHS campaign, Healthy People 2030, aims to improve health and well-being by emphasizing SDoH and increasing preventive care across all age groups.
Rise in Alternative Payment Models (APMs): MIPS payment system has stabilized, and no significant changes are expected, except for MIPS value Pathways. APMs, such as accountable care organizations, bundled payment models, capitation models, and episode-based models, have the potential to save costs and limit healthcare expenditure. CMS offers higher incentive payments to encourage clinicians to join risk-based alternative payment models. According to the

Commonwealth Fund

,

Population-based payment (PBP) models are the most advanced VBC model, and they emphasize three key features: being prospective, based on a budget, and requiring providers to take on risk for costs that exceed the budgeted amount.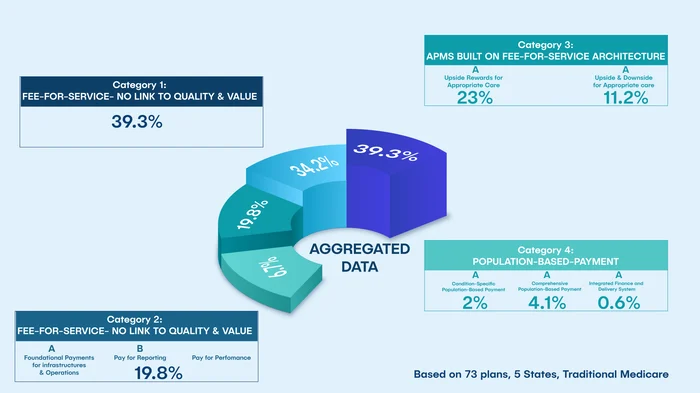 As you can see in the infographic above, only 39.3% of all (Medicare, Medicaid, MA, Commercial) payments from a study conducted by HCP-LAN [10,11] were from pure fee-for-service. CMS now expects all traditional Medicare beneficiaries to be treated by a provider in value-based care model by 2030 [13]. Category 3 and 4 payment percentages increased from 23% in 2015 to 41% in 2020. A lot of traction is already seen in Category 2 with introduction of MIPS and Category 3 with realization of ACO Shared savings program. In the near future, overall participation in APM is projected to increase; future will hold introduction of new PBP models. These are classified as Category 4 and involve prospective, population-based payments, structured in a manner that encourages providers to deliver well-coordinated, high-quality, person-centered care within either a defined scope of practice, a comprehensive collection of care, or a highly integrated finance and delivery system.
Predictive Models and Use of AI: Advanced analytics and AI models will be utilized by providers and payers to plan for growth. This includes leveraging SDOH to identify early risk indicators for PHM and predicting the cost of care in relation to patient outcomes. It also involves building a path to minimize financial risks in contract negotiations and predicting VBC incentives/penalties based on their healthcare IT infrastructure and population's risk profiles. Utilization management and data analytics services for risk stratification, care transitions, and data synthesis will continue to flourish.
Interoperability: For providers to succeed in VBC, having the appropriate infrastructure is crucial. The Office of the National Coordinator for Health Information Technology has identified four key domains of interoperability that help providers deliver patient-centered care. More than 60% of hospitals are engaged in electronically sharing health information in 2021, which is a 51% increase since 2017.
Upgrading to 2015 Edition EHRs and bulk data export technology adoption is common among hospitals, and federal and state initiatives are encouraging participation in HIEs. EHR technologies will continue to reduce unstructured data, and interoperability will enhance provider efficiency and reduce Physician IT burn-down as physicians remain at the center of care delivery.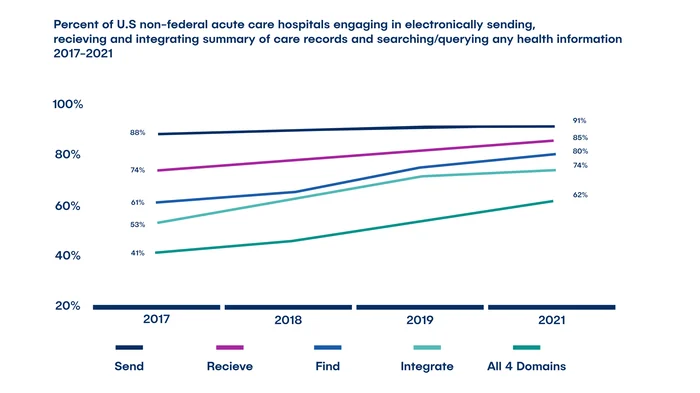 Conclusion
Value-based care is proving to have a positive impact on the healthcare ecosystem, and it is crucial for payers, providers, and patients to adopt it. Federal strategic initiatives, such as regulatory programs and technology standardization, are key to success in implementing alternative payment models. VBC is holding providers accountable for outcomes, encouraging collaboration, innovation, and technology adoption. Providers who can thrive in this new environment will be the ones who succeed in the long run. Value-based care has immense potential and is here to stay, evolving with the healthcare industry's shift towards it.
Summary
Value-based care has transformed the care paradigm and regulations have evolved to aid provider transition. Though challenges exist, early adoption, patient-centric focus, technology investment, and data analytics can enhance VBC effectiveness and profitability. Yearly strategic planning is key to success in VBC implementation, powered by interoperability and data analytics. Future advancements in AI algorithms will drive transformational change in the VBC continuum.
---