Laying the Foundation

For Digital Healthcare
Santosh Patil, Senior Vice President and Technology Leader, CitiusTech
INSIGHTS
Digital healthcare is no more an emergent trend; but the norm. Digitalization has penetrated across different use cases for various stakeholders in the healthcare continuum.
AI/ML and analytics will form the basis for newer innovations and will dictate the status quo of tomorrow's healthcare
At the end of the day, every such initiative is directed towards the patient and better patient outcomes; accessibility to personalized and cost-effective care delivery tops the agenda for healthcare organizations.
The paradigms of the economy are shifting, with digitalization changing every aspect of business-as-usual and paving the way for a more tech-driven future. Healthcare organizations, in particular have begun embracing digital technologies on a massive scale, starting from data-driven workflows, automative claims processing, AI/ML-based medical imaging, robotics-led surgeries, and innovative care-at-home models. What has set this in motion is the awareness and clarity of mind that the users – both employees and patient – have demonstrated. And backed with a plethora of options, they aren't afraid to demand what they want.
The value of digital transformation in the healthcare sector globally is around USD 65.2 billion in 2023, which is predicted to grow at a CAGR of 14.5% from 2023 to 2033 and reach USD 253.6 billion by 2033. Technologies like cloud, AI, ML, and IoMT have already become the norm and are elementary in building a robust foundation for more futuristic use cases.
TELEHEALTH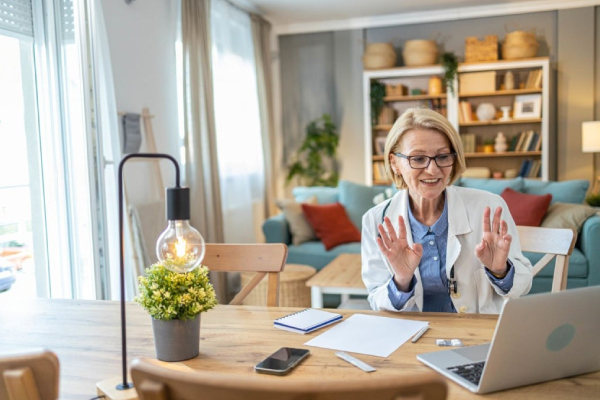 Remote care and telemedicine have revolutionized care delivery, patient-provider engagement, and overall patient outcomes. However, unlike the voguish belief that it is a byproduct of the global COVID-19 pandemic, the concept is not recent. It is over five decades old, and with the assistance of telecommunications and virtual communication, is now reaching the far ends of society. The younger generation especially has taken a keen interest in this digital delivery model. Young adults aged between 18 and 24 are the most frequent users (72.5%) of video services to receive healthcare.
Interestingly, a higher engagement rate from the marginalized pockets of the society, owing to age or other financial, economic, or sociological factors, has also been observed. For instance, 42% of females engage in telemedicine practice over 31.7% of males. Though this presents an excellent opportunity to tap into a potentially un-explored market, it also comes with the inherent difficulty of creating a digital solution that is robust and scalable enough to enable seamless communication between care providers and patients, but is also easy to operate. It becomes necessary for healthcare organizations to choose and partner with a healthcare IT services provider that can deliver on this intersection and make their investments meaningful.
DATA ANALYTICS
We live in times where digital data has become the new oil. According to a study, every day, the human body generates two terabytes of data. From various vitals like blood pressure, sugar levels, heart rate, etc. to lifestyle behaviors, this is a vast trove of insightful information. Through data analytics, physicians and hospitals can personalize meal plans and healthcare regimens based on this patient data and insurance providers can customize their product according to a patient's risk factors and their self-interest towards better care outcomes. For healthcare providers, such insights derived from data analytics can result in lesser in-patient visits and streamlined processes. Whereas payers stand to reap the benefits of profitability through risk mitigation.
Further, amid a revenue decline, through the adoption of a purpose-led ecosystem economy, healthcare organizations can also achieve better control over revenue leaks. They can drive patient loyalty through constant engagement with periodic notifications on scheduled appointments, related products, and services.
ROBOT-ASSISTED SURGERY (RAS)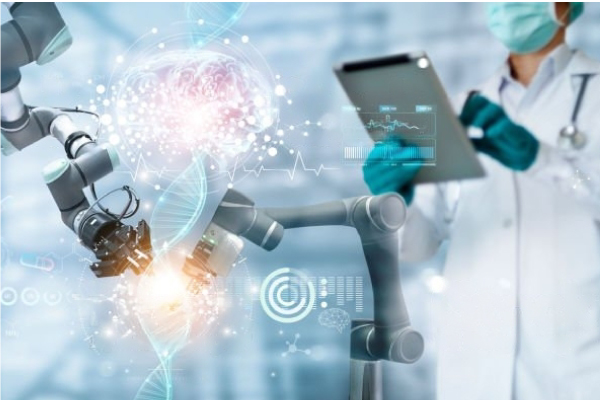 Technology has not only made healthcare more accessible but also less invasive. Today, surgeons are being assisted by robots in the OTs. What this means for the future of medicine is less invasive and more accurate surgeries. These surgical robots are console operated, with hand and foot controls to operate the various parts of the robot. The robots are inserted inside the patient with minimal invasion and are controlled by the doctors who monitor their movement through a high-definition screen.
From the robot itself to its console, arm and foot control, and the high-definition screen are all a part of a very sophisticated med-tech solution. And the current market growth rate for the same is around a CAGR of 16.84%, with a forecasted future value of USD 20.98 billion by 2030 compared to USD 5.16 billion in 2021. The technology is abreast, but this is no way near its actual economic potential, and the agenda for CIOs and CTOs of healthcare businesses must focus on strategic investments in the technology.
MOVING FORWARD
As much as consumer demand has accelerated technological advancement, technological advancement is the root cause behind spiralling consumer demands, a classic causal nexus. This is crucial for healthcare organizations to understand, as the tech-savvy tomorrow they are moving towards also means a patient and consumer-centric environment. And the sure-shot way to ensure that is by embracing and inculcating state-of-the-art medical solutions powered by cloud, AI, ML, robotics, and remote care to enable accessible, personalized, and effective care for all.