Insights
Every digital-led innovative move in the healthcare industry – be it by insurers, hospitals, pharma companies, or clinical researchers – has always been directed towards catering to patients.
Healthcare institutions must strike the right balance between quality care and profitability, and digitalization will help them get there.
From technologies that have now become the norm, like cloud, automation, and mobility, to the more ground-breaking applications of blockchain, the industry is looking at a novel modernization roadmap.
In recent times, organizations across the healthcare continuum have made significant progress fueled by digital transformation and the need for patient-centric care delivery. Charged with the potential to revolutionize the status quo through quality, accessibility, and affordability of healthcare services, the collective vision of achieving improved patient experiences and better delivery and management of care, is not very far.
We are living in the era of the modern healthcare consumer and stakeholder. On one hand, the consumer leans more towards mobile devices, fitness apps, and wearables to find physicians, monitor vitals, and share clinical details with hospitals. On the other hand, providers deploy novel technologies to improve revenue opportunities, workflows, legislative and regulatory compliance, and product design. With the digital health market revenue estimated to reach US$12.20 billion in 2023, the role that digital technologies will play across the spectrum is undeniable.
Elevating Care Delivery to the Cloud
Digitalization has brought about two main outcomes to every area of application – agility and scale. To a great extent, these can be attributed to the entrance of cloud computing in healthcare. This global cloud healthcare market is estimated to double to US$89.4 billion in 2027, from a mere US$39.4 billion in 2022. From electronic medical records (EMR) and electronic health records (EHR) to digital workflows and excellence in diagnostic processes, self-help, e-prescription applications and clinical trial data analytics, the seamless functioning of everything banks on a robust and secure cloud infrastructure.
Article
5 Key Digital Shifts to Enhance | Foster a system that prioritizes patient well-being. Here is how.
En Route Patient-Centric Care Through AI and Automation
At one end of the spectrum there are relatively nascent technologies like blockchain ready to modernize care delivery. On the other end, strategic adoption of technologies like artificial intelligence (AI), automation, and cloud will form the cornerstone for unlocking unlimited opportunities for payers, providers, and most importantly, the patients.
Payer
Thanks to digital transformation, healthcare payers have witnessed a paradigm shift in their roles. They are no longer merely 'paying for healthcare' but have metamorphized into 'engagement hubs.' Across companies, the organizational perspective has made inroads, leading to a complete rethinking of how products and services are planned, designed, and released. AI and automation continue to facilitate tailored experiences, designed to benefit patients' needs, enabling them to make the most out of it, minus the risk involved for payers. Some of the core focus areas on health plans are interoperability, data analytics, digital engineering, provider performance management, and member experience management. The key for payers to ensure profitability and customer satisfaction lies in bridging tools and processes that leverage essential data points to help them provide more personalized experiences to their members. To exemplify, an insurance provider can develop a single, integrated system with pre-built KPIs to streamline their workflows and improve operational efficiency. This can translate to downstream and upstream benefits such as better compliance reporting, provider engagement, HEDIS sampling, and NCQA submissions to name a few.
Provider
According to a recent report, AI-driven healthcare is a trillion-dollar opportunity in India, and when clubbed with automation, it can make the lives of healthcare providers simpler, and by extension, empower them to delivery qualitative patient-centric services. Applications for accurate and efficient diagnostics, fewer surgical complications, and improved information management can be leveraged to earn the much-needed scorecard outcomes in the value-based model. Automation has transgressed telemedicine and robotic surgeries to encompass precision medicine and virtual nursing assistants. Furthermore, when combined with edge computing, it can improve the quality of life in patients while enabling healthcare providers to offer remote patient monitoring and automated care delivery. To illustrate a use case, hospitals can design and optimize a digital delivery model that helps drive deep insights which in turn can assist them in curating personalized patient journeys.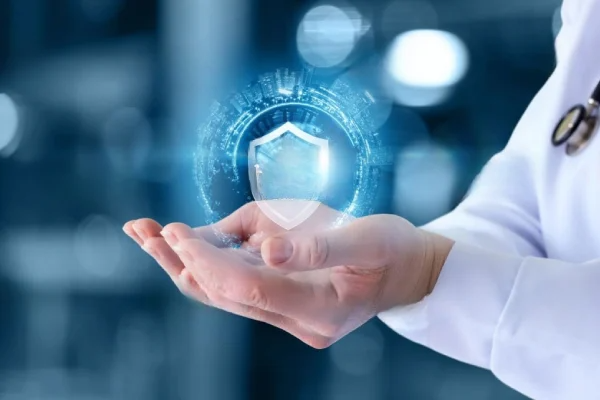 To illustrate a use case, hospitals can design and optimize a digital delivery model that helps drive deep insights which in turn can assist them in curating personalized patient journeys.
Blockchain: Connecting the Healthcare Continuum with Security
The popularity of blockchain technology in healthcare has invariably elevated in recent years. It can track and authenticate medical shipments or drugs across the supply chain and account for faster and smarter logistics operations. Blockchain has also proven its mettle in compiling longitudinal patient records such as disease registries, laboratory results, and treatment-related information, which can help payers and providers with instant, trusted, and secure access to patient data. Healthcare units across the globe have started identifying the futuristic potential of blockchain for their specific needs. An exciting phase, especially for innovators in the biopharma/pharma chain is underway, as blockchain is being deemed as a key value driver in drug discovery and clinical trial management. In addition to operational speed and maximized productivity, blockchain has also been observed to account for clinical trial data security on centralized platforms. At the end of the day, this will trickle down to vast benefits for hospitals and patients alike, as the technology allows providers to access and patients to share their data while not compromising on data protection and privacy.
Accelerating Digital Health Innovation for a Safe Future
Continued progress and the drive for innovation are instrumental in fueling enhanced patient care and industry growth. More companies are striving to build a healthcare ecosystem that is consumer-centric, convergent, and driven by next-gen technologies. The ever-evolving patient needs will be the north star for companies looking forward to engineering newer healthcare models. It also becomes important to not lose sight of service quality, accessibility, and efficiency. With enhanced productivity and care continuum in the spotlight, healthcare units will be more equipped with better, faster decisions supported by advanced analytics, cloud platforms, and automated workflows. These won't attain fruition without deploying consulting expertise that draws deep insights from real-world experience and technology strategies.
Businesses will do well to prioritize designing and implementing strategies that could lower the go-to-market (GTM) time, while scaling performance value across organizational verticals. This would also pave the way for increased investments, widened commercial opportunities, and universal coverage programs. The future of the healthcare industry demands institutions to be digital-first yet powered by humane innovations, centered around better patient outcomes. Strategic digitalization is poised to bolster growth and transform this space by enhancing stakeholder experiences and fostering enhanced patient experiences.