Authors: Amit Parihar, Sr. Manager, Citius Tech
There is a wide range of application of IoT devices in healthcare creating a market segment sometimes referred to as Internet of Medical Things (IoMT). Most common use cases are wearables such as Fitbit band or smartwatch that can monitor multiple health parameters, Remote Patient Monitoring (RPM) devices, and Continuous Glucose Monitoring (CGM) devices. Some specific use cases are connected inhalers for patients with conditions such as asthma or application of IoMT devices in Robotic surgery requiring utmost precision.
As per a report by Deloitte , IoMT market is estimated to be worth USD 158 billion in 2022. IoMT devices have enabled care providers' transition to value-based care by supporting patients with high-risk chronic illness whose conditions are considered unstable and at risk for hospital admission. Based on a study of 100 clinical informatics and health IT thought leaders, 88 percent of providers surveyed have invested or are evaluating investment in Remote Patient Monitoring (RPM) technologies.
TA federally funded study by John Hopkins Medicine highlights that wearables are a more reliable measure of physical activity and better than patient surveys and other methods used by physicians at assessing five-year risk of death in older adults.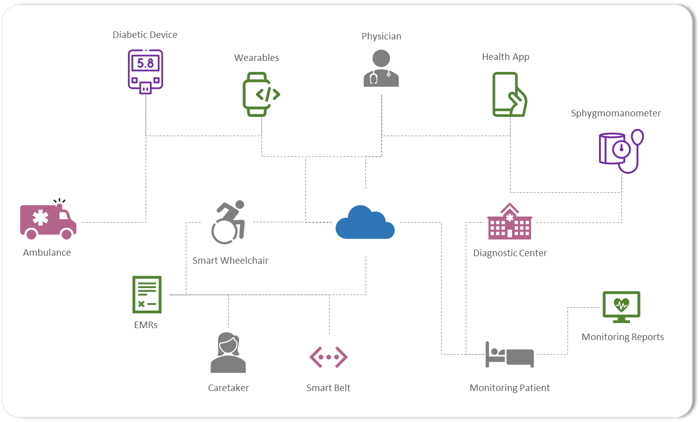 Figure: Schematic representation of an IoMT ecosystem
Because of it's application , performance of IoMT devices critical. There are five key factors that impact the performance of IoMT devices which are as follows:
IoMT Platform Sizing


Sizing has an impact on all applications, including IoT platform. An IoT platform hosted on Cloud will not guarantee an error-free performance. For elastic architectures, architects need to finetune the thresholds that inform the platform when to spin up new nodes.



IoMT Gateway Sizing
All communications with endpoint sensors is managed through the gateway. Endpoint sensors can displace and lose connectivity. Gateway ensures that these messages are stored and delivered to IoT platform when the device reconnects. Based on the use case, the gateway may handle few devices or hundreds of devices.
High performance of gateway becomes imperative since it is the main node to interact with all endpoint devices. These gateways are compact and portable devices with limited hardware, and identifying thresholds is necessary to benchmark the performance of the IoMT platform.
Open Source Technology and Open Standards


Leveraging open source technology and standards such as Apache Ignite and Kubernetes for IoMT devices provide several benefits ranging from cost savings to easy access of enterprise version of relevant software. Open source AI such as TensorFlow from Google can be used to train devices. Open source technologies are easy-to-use and scalable, and provide an economical approach in driving performance of IoMT architecture. Adoption of open standards will also enable payers, Healthcare Providers, and technology vendors to implement interoperability across IoMT platforms.

Observability and High Availability
IoMT devices are part of a decentralized system and need the ability to connect rapidly to an enterprise network. Overhead for monitoring IoT applications must be minimal and operate within device constraints (memory, computing resource, and network connectivity).
Communication Protocol


Complete knowledge of workflow will help design the behavior of the endpoints. Gateways and sensors send data every few seconds and receive instructions to send additional messages.

An IoT network does not have standard protocols to establish the connectivity between IoT application and devices. IoT protocols include HTTP, AllJoyn, MQTT, XMPP, DDS, COAP, IoTivity, AMQP, and more. The selection of communication protocol depends on the implementation use case and will impact the performance of an IoT platform.

There are more connected devices on the planet today than the total human population, and this number will continue to grow manifold. Similar trend is seen in healthcare wherein global IoMT market is expected to grow to $254.2 billion in 2026
IoMT is an enabler to provide better access to care for patients present at remote locations. Care providers should continue to harness the efficiency and cost benefit obtained from using connected medical devices to provide access to better medical facilities across geographies.