Authors : Shobhit Saran, AVP Health Plans & Gati Patel, Healthcare Business Analyst
In today's digital era, Health plan consumers are looking for personalized and seamless experiences that offer immediate acknowledgement and response to an issue. Health plans are now focused on meeting consumer needs throughout the spectrum of the care journey with CRM systems to help enhance consumer engagement and experience.
A typical customer journey includes various touch points such as sales, marketing, customer service and care management. The problem arises when health plans struggle to keep up with complex customer journeys due to lack of data sharing between multiple, siloed, and disparate systems. CRM systems aim to overcome these barriers by helping organizations identify member needs, interests and more to pull all the pieces together from various data sources.
Some of the leading CRM systems available in the market include Salesforce Health cloud, MS Dynamics 365, Oracle Siebel and PEGA Customer Service CRM. Few CRM systems like the Salesforce Health cloud provide advanced features such as analytics, AI/ML along with sales, marketing, and member outreach capabilities.
Salesforce introduced the health cloud in 2016 specifically for the healthcare and life-science industry to help stakeholders across the clinical value chain drive digital transformation on a secure and customizable platform. This enables healthcare organizations to build strong relationships with customers and drive collaboration.
The CRM also provides Healthcare AI & data analytics functionalities to achieve success across business verticals such as sales, marketing, member services, care coordination. It reduces the complexity and burden on all stakeholders, including members who may need to buy or renew their plans, improve health plan selling capability of brokers and sales team, and help Healthcare providers reduce their administrative burden.
Salesforce enablement can take place across a member's life-cycle – from enrollment to retention and renewal across the payer value chain.
CRM Use Cases for Health Plans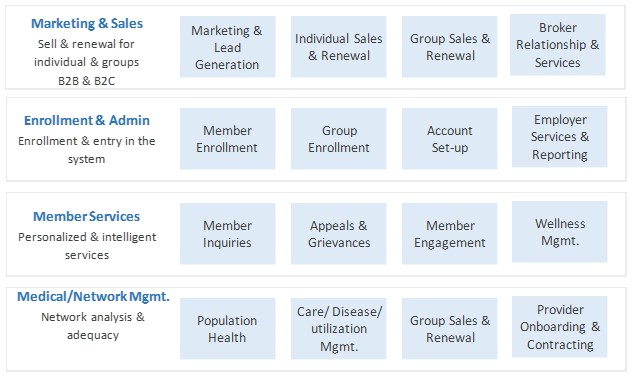 Salesforce Health Cloud will enable health plans achieve:
Patient centric healthcare with 360-degree view of member SDoH, physical, clinical and mental health related data

Personalized, predictive, and preventative care for members using in-built analytics and AI functionalities

Cost saving by identifying and treating high-risk population

Empowered, educated and informed members with shared decision making between providers and members



With the adoption of robust CRM strategies and tools, health plans can effectively manage the changing environment and customer needs. CRMs will enable organizations to focus on the customer journey, leading to better decision making and improved member satisfaction, loyalty and advocacy.