In Part 2, we addressed the need for consent management and related workflows to ensure that payers are compliant with the CMS Interoperability & Patient Access Rule. Part 3 explores the possibility of next-generation provider engagement using the 'SMART on FHIR' apps framework.
Although payer-provider engagement today is highly collaborative in nature, the shift in engagement from a transactional to strategic model is not realized yet. Enhanced transparency between health plans and providers can ensure better clinical outcomes and greater value throughout the healthcare system, and would result in closure of care gaps and improved payer quality scores.
Access to the right data at the right time by the right individual is crucial in the age of advanced interoperability and modern-day data exchange. The plug-and-play capability of the 'SMART on FHIR' framework can now be leveraged to develop next-gen applications that enable providers to have on-demand information exchange with payers and other health systems.
So, what is 'SMART on FHIR'?
SMART stands for "Substitutable Medical Applications, Reusable Technologies," an approach that started with a $15M grant from the ONC for substitutable third-party apps. Sharing the same goals for interoperability as HL7, the initiative turned its course to become 'SMART on FHIR', where SMART is the application side and FHIR is all about the data. It not only allows third-party functionality and more efficient use of EHR data, but also offers access to discrete clinical data. With more access to data and seamless data exchange, providers can now run analytics and identify growth opportunities and address shortfalls in their organization's performance.
The Da Vinci Project has listed use cases that address provider engagement, and describes the use of 'SMART on FHIR' apps. The project's prior authorization use case implementation guide indicates two use cases – Coverage Requirements Discovery (CRD) and Document Templates, and Coverage Rules (DTR) that contains usage of interoperability standards such as 'SMART on FHIR' apps. The use case suggests that for a provider workflow of raising a prior authorization request to a health plan, the provider should be able to access coverage information of members, and share all relevant information as per the plan's document requirement rules in real-time.
The use cases from the Da Vinci project form the basis of CitiusTech's 'SMART on FHIR' app for provider engagement, that enables sharing of patient's gaps information at the point of care. The workflow below illustrates the use case addressed by CitiusTech's GapFinder 'SMART on FHIR®' app.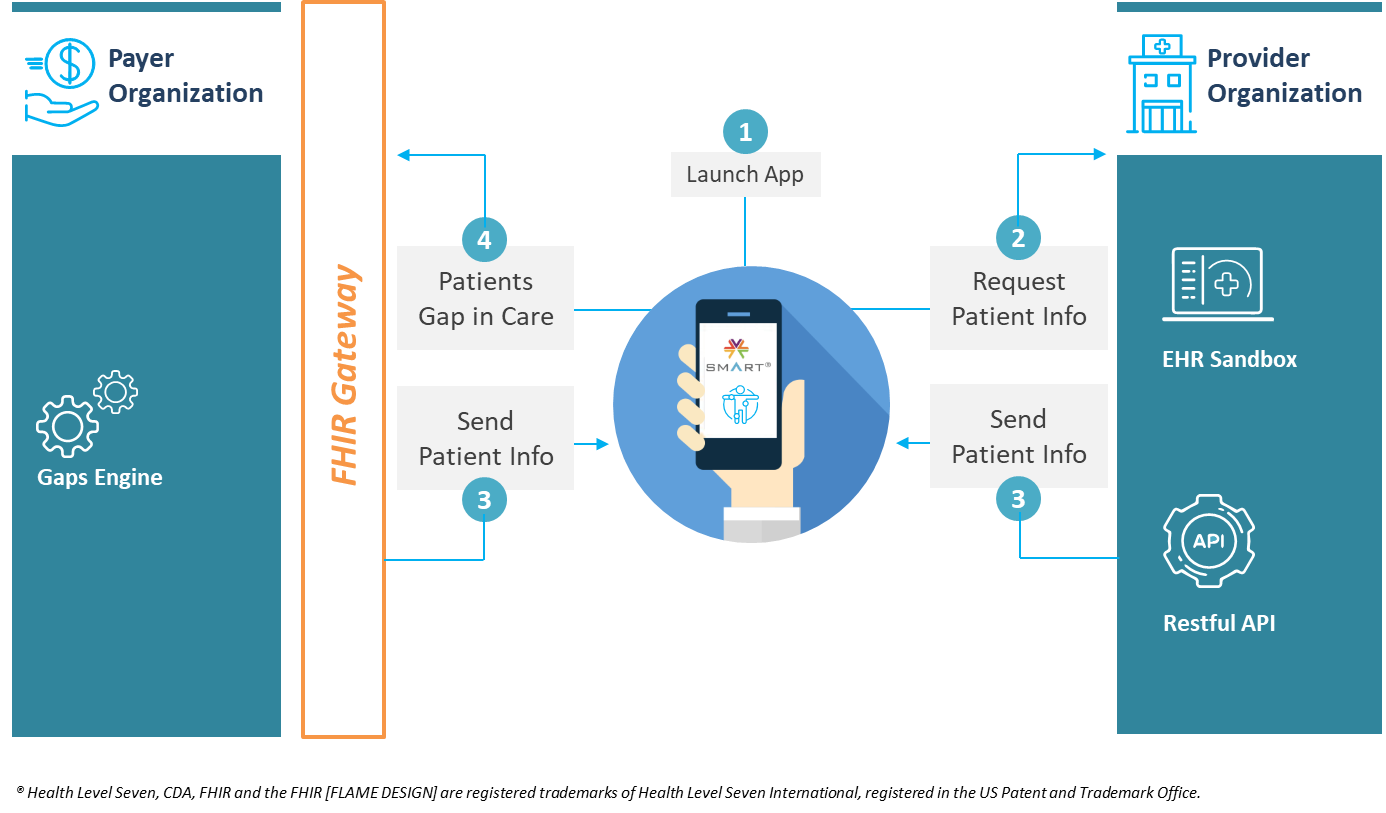 | | | |
| --- | --- | --- |
| Step | | Description |
| | | |
| 1 | | PCP/Nurse launches the 'SMART on FHIR' app |
| | | |
| 2 | | App requests patient information from EHR and retrieves patient information from the EHR FHIR sandbox |
| | | |
| 3 | | 'SMART on FHIR' interface sends patient information to payer system where the gaps engine executes rules in real time – Rules engines service |
| | | |
| 4 | | Display the gaps-in-care on 'SMART on FHIR®' app using the response from the rules engine service |
Similarly, another use case requires providers to make an eligibility wrapper call from a SMART app on a provider portal/EHR that would return patient's coverage details as well as gaps-in-care information from a payer's gaps engine to the point of care. This helps improve outcomes, reduce expenses and disruption to provider workflows, ensuring best practices are followed.
Other provider engagement use cases that leverage 'SMART on FHIR' include – easier extraction of EHR data for quality measure calculations, exchange of documents for claims and prior authorizations, and exchange of admission, discharge, and transfer data.
Implementation of CMS' rule will see rapid growth in adoption of interoperability and FHIR. Payers and providers should proactively invest in 'SMART on FHIR' apps and explore use cases that streamline exchange of information at different engagement touchpoints.
Read all Blogs in the FHIR Series
Part 1: CMS Interoperability & Patient Access Rule - Impact & Opportunities
Part 2: CMS Interoperability & Patient Access Rule - Patient Consent on Data Sharing
Part 4: CMS Interoperability & Patient Access Rule - FHIR Bulk Data API
Part 5: CMS Interoperability & Patient Access Rule - FHIR Data Repository
Next in the blog series, Part 6: "Payer to Payer Data Exchange"