By Deepak Valecha, Asst. Vice President - Health Plans & Healthcare Consulting, Shobhit Saran, Asst. Vice President - Health Plans, CitiusTech and Venkatesh Bagal - Sr. Consultant, Health Plans, CitiusTech
In 2020, the federal government finalized the "Transparency in Coverage" Rule, requiring health insurers, group health plans, including self-funded organizations, to provide cost-sharing data to consumers via machine-readable files (MRFs). Starting July 1, 2022, machine-readable files were required to be published on a publicly available site for plan years beginning on or after January 1, 2022.
MRFs are designed to provide pricing data for covered items and services based on in-network negotiated payment rates and historical out-of-network allowed amounts. The government delayed a third MRF for prescription drug rates and historical costs pending further guidance.
How well are health plans adhering to MRF requirements?
As part of CitiusTech's experience with implementing our machine-readable file engine solution, MRFE, we analyzed how well four national health plans and two Blue Cross-Blue Shield (The Blues) plans are complying with the new Rule. As of this publish date, our MRFE solution is in use with eight health plans, including Blues and TPAs, with documented success.
Our team analyzed 15 MRFs, looking at the schemas and layouts required by CMS, the nuances of what works and what doesn't. We offer observations and recommendations around how best to generate MRFs and adhere to the schemas and layouts proposed by CMS.
Health plans and MRFs: Notable observations
Specific to Blues plans:

Health plans within BCBS-A can offer their networks internally to other Blues health plans. As a result, the reporting entity on the MRF would feature a Blues health plan and consume pre-generated files from other Blues health plans within the BCBS-A network.

TPAs or entities that own their networks

These are not health plans. Their clients would be identified using the Employee Identification Number (EIN) and not a Health Insurance Oversight System (HIOS). This should be published to the MRF.

MRF-generating entities:

They have the option to choose between a single plan schema (details split at the client or plan level) and a multiple-plan schema (details split at the network level) when publishing the MRF.

Hosting MRFs:

Instead of hosting MRFs on their own website, health plans have opted to work closely with partners to host large MRFs.

MRF requirements:

MRFs must be produced for three types of networks -- owned, leased-out and leased-in. In owned or leased out networks, the onus always lies on the health plan or issuer to ensure that MRFs are accessible on a public website. For leased-in networks, the health plan or issuer is not responsible for creating the MRFs but must host a pre-generated machine-readable file.
Machine-readable Files: What we see working and areas for improvement
Health plan transparency progress
In summary, our analysis revealed that most health plans are making good progress in their efforts to create accurate and usable MRFs, and they are providing public access. However, we also uncovered areas of concern where health plans should ensure that their approach to schema, data hosting, and user-friendly access should be reviewed and improved.
What's next with price transparency and MRF creation?
As health insurers and group health plans, including self-funded organizations are still new to transparency requirements, it's expected that they will fine-tune their processes, approaches, and choose solutions to help them improve their MRFs based on the size, structure, and required accuracy of the data as they publish.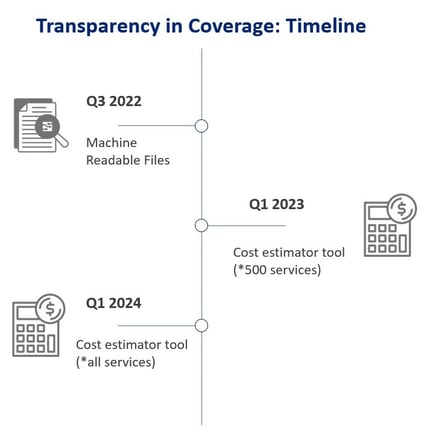 Cost estimator and consumer price transparency tool: Starting in the first quarter of 2023, health plans will be required to provide an online tool for members that include personalized, real-time, cost-share estimates for covered services and items, including pharmacy. For plan years beginning on or after January 1, 2023, the online tool must provide cost-share estimates for 500 shoppable services. For plan years beginning on or after January 1, 2024, the online tool must provide cost-share estimates for all covered services.
Leverage MRFs with analytics to create a strategic advantage
CitiusTech's Machine-Readable File Analytics for Payers solution transforms coverage transparency regulation data into an unprecedented opportunity for you to benchmark against valuable market data and generate competitive insights.
Our end-to-end MRF analytics solution provides AI-augmented decisions across payer operational workflows that complemented with our MRF data architecture, data science expertise, and extensive payer consulting experience. Learn more about CitiusTech's MRF Analytics for Payers.