By Shreekanta Kumar Sahu, Sr. Healthcare Consultant and Vikram Sukthankar, Vice President & Consulting Head, Healthcare Providers
In the previous blog, we discussed the importance of data science and digital innovation for payviders. This final blog in the series focuses on optimizing core payvider applications and improving efficiencies of associated workflows to drive business transformation effectively.
By optimizing core applications, system integrations, and workflows, payviders can effectively engage consumers across chronic, acute, post-acute, and long-term care. Their goal: to promote healthier living and affordable care through seamless omnichannel experiences, proactive care management, personalized care plans, improved medication management, and simplified care transitions. From an efficiency and efficacy view, these hybrid payer-provider organizations want to streamline core workflows across benefits administration, claims processing, utilization management, care management, and risk management.
The payvider model is uniquely positioned to bring convergence between payer and provider workflows and systems, enabling data-sharing between the two core systems and meeting this moment of increased consumerism and new reimbursement models.
Figure 1: The payvider ecosystem.
The Current State of the Payvider Model and Challenges to Address
Outdated, Monolithic Core Administrative Systems: Many payviders still use legacy core administrative processing systems (CAPS) that cannot respond quickly to market and regulatory changes. These are highly customized or homegrown systems developed using mainframe technologies decades ago. Keeping these systems functional, or accommodating new business rules and workflows, requires IT resources with expertise in specific technologies that are hard to find. Relying on legacy systems creates a bottleneck in striving for a seamless user experience for members, providers, and staff. And it stifles digital transformation.
Difficult Integration: Integration of legacy core admin systems with external and internal systems is also difficult because the newer system may use different or incompatible technologies. This hinders compliance with the interoperability mandate and achieving greater operational efficiency.
Many payviders are looking to modernize their core admin systems to support changing market and regulatory demands while lowering costs, maximizing operational efficiency, and optimizing resources. System upgrades enable payviders to focus on developing innovative products for their demanding customers, engaging providers and members more effectively, and improving stakeholder satisfaction.
Key Considerations for Optimizing Core Applications
Core applications should work in coherence with enterprise architecture for digital transformation, interoperability, automated workflow execution, and to support third-party integrations. At the same time, it is prudent to ration the application portfolio footprint at the enterprise level since managing multiple applications and vendors is a distraction to the core business. Plus, it is costly, time-consuming, and complex.
Six critical considerations for evaluating core applications include:
Digital Experience: Healthcare faces a strong push towards interoperability and digital technologies for enhanced consumer, provider, and broker engagement. Core applications that work cohesively and seamlessly within the enterprise architecture provide a better multi-channel engagement experience.
Data-driven Insights: Integration of payer and provider systems unleashes aggregate claim and clinical data that enables robust precision healthcare, preventive care and wellness, personalized medicine, and care delivery programs. Payer and provider system integration will lead to real-time eligibility and benefits inquiry, cost and price transparency, prior authorization matching, and risk adjustment.
Complex Reimbursement Models: Significant shifts to value-based insurance design are leading payviders to adopt new reimbursement models like shared savings, shared risk, bundled payments, and capitation. CAPS must support these new reimbursement models to ensure value-based contracts and pricing are accurate, and value-based payments can be reliably reconciled. Success value-based care arrangements require real-time access to clinical and payer claims data coupled with the ability to merge these data with quality reports like HEDIS scores.
Streamlined and Automated Quote-to-Card Workflows: Most payviders have digitized the quote-to-card process.However, they rely on multiple systems supplied by different vendors, which creates silos.While selecting core systems,payvidersshould confirm that the system is capable of intelligently automating the end-to-end process with minimal dependency on other systems.This will improve operational efficiency, consistency, accuracy, and access to data and insights needed for timely decision-making.
Automating Claims Processing:McKinsey estimates that healthcare claims are adjudicated at a rate of 80-90%. Though most modern systems claim a 90%+ auto-adjudication rate, they struggle at ~85% for several reasons, including highly customized benefits plans, pre-auth matches, and duplicate pends, for example. Payviders should discuss this with core application vendors to customize the application or deploy intelligent automation technologies (AI/ML, NLP, RPA) so that auto-adjudication rates improve.
A payvider can easily achieve an auto-adjudication rate above 95% with the most appropriate core application, real-time member and provider data, and an intelligent automation strategy. Even marginal improvement in auto-adjudication rates will result in significant cost savings as manual intervention is very costly.
Build vs. Buy vs. BPaaS: It is in a payvider's best interest to analyze whether it is best to build or buy licensed applications or choose business process as a service (BPaaS) solutions to modernize core systems. When updating core systems, very few health plans opt to build them from scratch because it is an overly complex and time-consuming process, requiring a large IT budget.
Most health plans buy commercial off-the-shelf (COTS) applications and configure or customize them to meet their needs. This also requires purchasing licenses for other third-party applications and integrating them with the core system. This is key since there are always business functions that the core system cannot perform.
Increasingly, health plans are adopting the BPaaS model, particularly small and medium health plans. This model effectively reduces the total cost of ownership and operating costs since the model is built on a multi-tenant platform. Find a BPaaS vendor with strong domain and technology expertise across the entire payer and provider value chain.
Migrating from Legacy to Modern CAPS
Modernizing the core administrative processing system (CAPS) is an expensive, complex, and time-consuming process. Payviders will need to evaluate and select suitable systems that will enable them to meet long-term strategic goals. They also need CAPS implementation partners with deep healthcare domain expertise, payvider business function and technological experience, as well as resources at the ready, a variety of tools and frameworks.
When modernizing their CAPS, payviders should ensure the new system has the following key capabilities:
Accommodate frequent market and regulatory changes
Evolve and accommodate market and regulatory requirement changes, offer innovative payment systems, and support a growing number of contractual arrangements

Extend the capabilities and functionalities of payer processing systems and provider-facing systems

Support new health models like Accountable Care Organizations (ACOs), Pay for Performance (PFP) reimbursement, and value-based networks

Every upgrade to or modernization of core systems is an opportunity to improve efficiencies and gain competitive advantages in a dynamic market
Accommodate complex benefit plans and reimbursement structures
The system should be flexible and configurable enough to change the benefit plan and payment or incentive structure easily

Configure value-based care and payment methodologies as performance changes

Offer tailored processing rules, supporting a wide range of processing variabilities

Allow configuration of benefit, product, policy, and processing rules by business users with minimal IT intervention.
Accommodate new product lines, mergers and acquisitions
Capabilities to adapt new product lines and take products to market promptly

Configurable core admin systems allow for scalable and responsive product design

Regulatory changes like the Affordable Care Act (ACA) increased focus on interoperability and transparency, competition from large group insurance, and accelerated evolution of Accountable Care Organization (ACO) programs driven by value-based care models.

At the same time, many organizations have adopted the strategy of M&A as part of their core strategy for business growth. Hence, the system must be scalable to accommodate the data and processes of the merged or acquired organizations with minimal impact on business continuity. The payviders should be able to quickly replicate and modify existing configurations, products, business rules, workflows, and reimbursement methods resulting in faster time to market.
Enables easy integration with provider systems, other trading partners' systems, and ancillary applications
Payvider organizations need an extensible system with an open architecture that enables easy integration and customization, delivering the flexibility to integrate with external applications. System capabilities must ensure consistent, up-to-date claims and clinical data across all channels and support rapid data analysis with real-time performance, executing and storing transactions as they occur.

Core admin system architecture must conform to the industry standard database, process management, and workflow management.

It should be easily integrated with enterprise systems to reduce inconsistency across the organization and maximize existing investments.
Available and secure APIs for interoperability
Ecosystem-enabled interface libraries with ready and configurable APIs and web services allow easy integration with other systems and minimize custom code.

In contrast to traditional interface specifications, these new approaches focus on reusing standardized APIs without requiring a "start from scratch" for each novel use case.

The CMS Interoperability and Patient Access final rule is intended to complement the ONC final rule, requiring CMS-regulated payers to implement and maintain a set of secure standards-based application program interfaces (APIs) over the next two years.

The CAPS system should be designed to support interoperability and the exchange of healthcare-related information, including clinical, claims, public health, administrative, and research data among organizations.

Pre-configured and ready-to-use APIs should integrate core admin system with external and internal EHR/EMR systems, as well as other clinical data repositories, to access all required member information that's managed in the CAPS.
Conforming to security and compliance requirements
Core admin systems should conform to security, privacy, and compliance requirements per directives shared by CMS, ONC, and other healthcare regulatory bodies.

The system should meet security, privacy, transactional, and accessibility standards for HIPAA 5010, ICD-10, HL7, FISMA, FedRamp, SOC2, HITRUST, and other industry certifications.

It must secure technical functions for authentication, authorization, auditing, and provisioning:

Authentication: Verify the identity of a user, device, or other entity accessing the core admin system
Authorization: Role-based authorization for specified access types for a system to perform different kinds of tasks
Auditing: Audit trail that enables the reconstruction and examination of a sequence of events
Provisioning: End-to-end identity management services for centralized user administration, password synchronization, and password strength control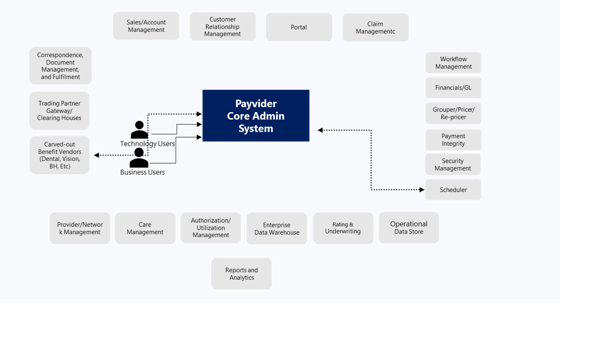 Figure 2: CAPS Architecture Sample
CAPS Implementation Considerations
CAPS Implementation, including integration, configuration, testing, and maintenance, is critical to a payvider's transformational objectives. Effective Implementation requires a thorough understanding of the business, operational processes, available and needed technology, and the IT ecosystem.
Payviders looking to implement CAPS frequently struggle with finding well-trained and cost-effective implementation experts and must overcome several material challenges:
Lack of skilled resources: Payviders need highly-skilled resources to implement CAPS. Many struggle with the transition away from legacy benefit configuration models.
High implementation costs: Due to health plan complexity and the demand for skilled resources, implementation costs are high. Mistakes in CAPS implementation create costly inefficiencies, client frustration, and rework.
Business continuity risk: Running existing business functions during Implementation while building a cost-effective, skilled configuration team takes special expertise and experience.
High ongoing costs: Maintenance costs will remain high if the configuration does not follow best practices and lacks consistency. Payviders that employ workarounds will decrease the effectiveness of their CAPS.
To overcome these challenges, payviders can use the Center of Excellence (CoE) of a particular CAPS vendor for Implementation support. CoEs can add value to a payvider in various ways, providing specialized subject matter expertise and best practices using the CoE implementation model.
Access to skilled resources: Professionals trained in CAPS implementation best practices, tools, and processes are worth the investment because they avoid costly mistakes, save time, and allow existing staff to focus on other priorities.
Faster Implementation: The CoE model gives payviders access to critical skills, capabilities, and best practices which in turn increases the speed of Implementation.
Cost optimization: Payviders can eliminate inefficient practices and decrease costs by using proven CoE models, streamlined processes, reusable assets, and removing redundancy.
Post-Migration Optimization Opportunities
Building your CoE around the core application streamlines operations, standardizes maintenance, provides thought leadership and design training while deploying skilled resources in critical areas.
The following four areas should be carefully considered when operationalizing a CoE:
Intelligent automation: Identify repetitive and manual tasks, and deploy emerging technologies like RPA, AI/ML, and NLP to automate processes intelligently. Process automation in claims, enrollment, billing, and member services . will accelerate digital transformation and free up more resources to focus on innovation and strategic growth initiatives.
DevSecOps: Core applications, along with upstream and downstream applications, require regular upgrades to meet market and regulatory changes. Adopting a DevSecOps model promotes security, reduces vulnerability, and minimizes interruption.
Continuous improvement: After a migration to a modern system, payviders should commit to continuous improvement to remove inefficiencies from business operations and workflows while ensuring that optimum and constant value delivery is aligned with evolving business objectives.
Global delivery model: Leveraging global delivery models to cost-efficiently provide round-the-clock support and maintenance services ensures business continuity, faster turnarounds on service requests, greater SLA compliance, and optimization.
Payviders can drive business transformation by taking a holistic approach and leveraging core administrative system best practices. Modernization and customization of core applications, along with an efficient implementation strategy, will enable payviders to cater to the market's growing and ever-changing needs. This not only boosts overall revenue, but improves the overall stakeholder experience, clinical quality outcomes, and financial health of this modern hybrid organization.