Authors: Dr Vishal Anand, Sr Business Healthcare Analyst, CitiusTech and Prafull Mathur, Sr. Business Healthcare Analyst, CitiusTech

With the ever-changing regulatory environment and the accelerating shift towards value-based care, it becomes critical for payvider organizations to have exceptional and germane performance management strategies and solutions that would enable them to achieve business and market goals.
In the previous blog of our payvider value chain series, we discussed different aspects of data curation and management. This blog addresses various aspects of payvider performance management like industry trends, key challenges, and solution considerations.
Payvider Performance Management Trends
Regulatory compliance and reporting
Interoperability and patient data access require removing data sharing barriers to ease patient information access. This will substantially reduce "data silos" that frustrate the construction of unified health records.

The CMSInteroperability and Patient Access Rule: Aims to empower members and patients by providing access to their health data and increasing interoperability among payers, providers, and patients. Recent additions such as pre-authorization to the existing rules have made it mandatory for payviders to have best in class interoperability solutions.

Affordable Care Act (ACA): Federal insurance subsidies are likely to be eliminated, leaving many U.S. citizens unable to afford coverage. In addition, possible removal of pre-existing conditions could lead to coverage loss or increased insurance rates.

No Surprise Act: NSA went into effect from January 1, 2022, and applies to individual and group health plans, including employer self-insured plans with key focus areas on patient protection, provider reimbursement, dispute resolution, and payer requirements. Figure 1 shows a timeline of the NSA milestones.





Figure 1 : No Surprises Act Timeline
21st Century Cures Act: Reduced regulatory burden & time for Health I.T. developers, care providers, etc., by removing randomized surveillance requirements. Removal of the ONC-Approved Accreditor (ONC-AA) reduced the health I.T. certification complexity & problem. Also, removal of certain 2015 Edition Certification Criteria and Standards impacted the reduction of burden on cost, development complexity, and regulatory certifications
HEDIS Reporting: 191 million people are enrolled in plans that report HEDIS results. That makes HEDIS one of health care's most widely used performance improvement tools. HEDIS includes measures for physicians, PPOs, and other organizations. It comprises of five key areas: Effectiveness of Care, Access/Availability of Care, Utilization, Risk-Adjusted Utilization, and Measures Reported Using Electronic Clinical Data Systems
Increased number of provider performance measures: In recent years, there has been a significant expansion in the use of provider performance measures for quality improvement, payment, and public reporting. Twenty-nine health plans in the study reported using 546 distinct measures. Measures are based on HEDIS or are internally developed
STARS Reporting: CMS rates Medicare Advantage plans on a scale of one to five stars, with five stars representing the highest quality. This enables Medicare beneficiaries to compare quality among Medicare Advantage Plans on the Medicare Prescription Drug Plan Finder (MPDPF), and as a part of Health Care Reform, CMS gives quality bonus payment to MA plans based on the Five Star Ratings
M & M Regulatory compliance (SOX): It is designed to implement accounting and disclosure requirements that increase transparency in corporate governance and financial reporting and to formalize a system of internal checks and balances.

Operational & financial performance
Centralized operations and near real-time situational awareness are critical for supporting clinician wellness, optimizing resources, mitigating risks, and improving patient outcomes
Organizations in healthcare are quickly turning to a more agile and flexible goal management model that allows for easy and ongoing updates to employee expectations, development needs, and results and a more flexible approach to overall performance tracking
Moving online with cloud-based software is a significant trend. Cloud access and software integrations that support ongoing performance monitoring ensure all employees are connected and that operational & financial performances are tracked
Payvider executives are bracing for an increase in Medicaid and self-pay patients over the next year. A rise in these types of patients will likely pose a financial strain for providers that prize patients with commercial coverage due to the higher reimbursement rates compared with government programs



Value-Based contract management

Providers are buying payers and vice-versa to manage the VBC transition effectively
Payviders aid the shift to VBC as they have access to both provider and payer data
There is a surge of ~20% in EBI(T)DA for payviders whose payments are tied to a value-based payment methodology






Care Coordination & population Health

Medicaid expansion: Payviders need to be prepared to care for this new influx of patients without compromising quality

Patient-facing digital health tools: Encompasses a wide array of mobile apps and portals designed as a "Digital Front Door."





Fraud, Waste and Abuse (FWA)

Payviders lose billions of dollars each year to FWA, and that's why there is a significant shift of movement by involving analytics to detect anomalies in the system

Payviders are currently looking at specialized Big Data processing platforms that can efficiently handle the high volume, velocity, variety, and veracity of healthcare data to develop and run powerful algorithms and statistical models to detect instances and patterns of FWA



Surprise Billing

Approximately $6 billion in increased charges by OON (out of network) emergency physicians at in-network emergency departments (only for certain health conditions)

OON charges from anesthesiologists, pathologists, radiologists, and assistant surgeons are estimated to increase spending by approximately $40 billion annually



Social Determinants of Health (SDOH)

Social factors, including education, racial inequities, social supports, and poverty, account for over a third of total deaths in the United States each year, with the U.S. economy estimated to lose $309 billion annually due to the direct and indirect costs of disparities

Clinician knowledge of the patient's SDOH factors can allow for earlier, more targeted interventions when a successful outcome is more likely

SDoH data analysis allows providers and health plans to prioritize and drill down to need and want levels; enabling them to design more efficient care management systems and optimize resource utilization
Performance Management Challenges for Payviders
Operationalizing data
Numerous data sources are leading to unprecedented levels of data. Aggregation followed by data standardization to develop a coherent model to drive outcomes and cost utilization holistically is a big challenge owing to the disparate data sources and the data quality issues. It also impacts data to decision life cycle as data strategies are not aligned to deliver insights aligned with priorities and speed of business. Our previous blog on data management provides additional details on data management challenges.
Regulatory reporting
There are a lot of regulatory pressures, with the regulations getting stricter now and then. The volume of enrollees increasing has also added to the pressure to achieve HEDIS compliance. Also, the limitations in terms of the frequency of HEDIS reporting (monthly) and custom reports have caused many problems for payviders.
Gaps in care
COVID-19 not only has shaken the entire world with its devastating effects but has led to gaps in care, as observed by many. It proves a challenge for payviders that deal with high-risk populations. Also, existing tools limit payviders to monthly or semi-weekly compliance runs, and they can't address care gaps effectively, which directly impacts their outcomes and scores.
Population Health
Population health management for precision medicine and care coordination can have a massive positive impact on patient outcomes. It can save a great deal of money for both payviders and patients as experimentation with different treatment modules and procedures can be avoided. It also supports faster diagnosis, which can lead to faster treatment. However, payviders need to make sure that they manage care coordination with all stakeholders in the ecosystem, including providers and patients to manage the patient population effectively and seamlessly.
Lack of coordination in value-based arrangement
Many times clinical and operational leaders are not aware of what is needed to take advantage of value-based opportunities in existing programs as they tend to work independently. Also, a lack of coordination and transparency between contracting and operational leaders leads to misalignment of contract, program incentives and operational priorities. Typically, each payvider has numerous benchmarks and methodologies for its VBC arrangements, often with variations between lines of business. In some cases, the same facility tracks more than 200 metrics connected to incentive payments for its commercial contracts alone.
Solution Considerations for Payviders
The payvider need is clear: drive foundational and transformation data and analytics strategies to achieve the three goals - reliable data, timely access, and interoperability. Figure 2 depicts where these three goals sit within foundational, intelligent, and transformational initiatives..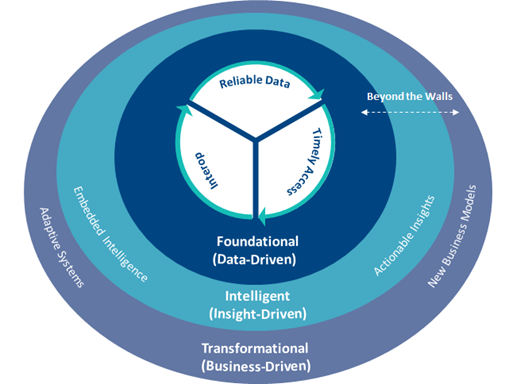 Figure 2: Achieving three payvider goals within foundational, intelligent, and transformational initiatives.
Analytics play a significant role in revolutionizing the payvider market. Rescaling analytics requires anchor within and establishing the appropriate initiatives across the healthcare continuum while promoting culture shifts, and managing the portfolio to maximize quality and financial health. Figure 3 represents those required considerations to scale enterprise analytics.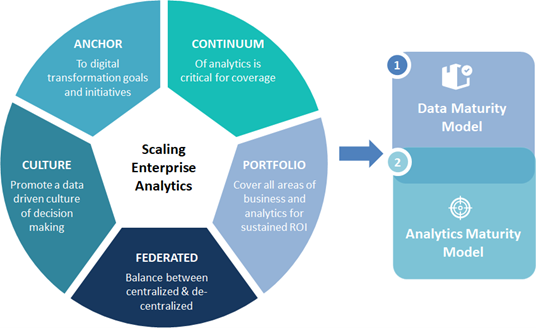 Figure 3: Requirements for scaling enterprise analytics for payviders.
Here are six considerations for payviders to stay focused on competitive forces and enhance overall business and market performance.
Regulatory reporting
Steamline regulatory reporting through powerful solution features like chase execution, campaign management, chart abstraction, and submission to NCQA/CMS. HEDIS reporting capabilities must also be further enhanced with daily compliance runs, comprehensive rules management, NCQA compliant validations and reports, as well as powerful analytics that align with current near-term needs.
Membership improvement
Payviders need to focus on both member acquisition and retention. This is where consumer analytics plays a vital role, enabling insights into how members purchase their health plans and supporting decisions and marketing, sales strategies that attract more members and achieve economies of scale.
Operational efficiency
Payviders need to Seek out world-class tools and solutions to ensure that redundant tasks are automated while greatly improving overall efficiency. Automating workflows not only saves time and labor, it reduces errors caused by manual, human interventions.
Closing gaps via value-based care and population health management
Pursuing gap closure via a value-based care approach gives payviders an opportunity to review their standards, processes, and operations. Which functions and actions have the best impact on care, health, and experience -- administrative and care processes, payments, coding, quality metrics, and communications. This can make certain that provider workflows support payment models, including fee-for-service and value-based payments, while still delivering individualized care. Coordination with charting, coding, and finance also are needed to ensure gaps are closed, and credit is correctly attributed. Organizations should target select stakeholders instead of creating an entire care management organization or burdening providers with significant additional work that interferes with their ability to engage patients.
Revenue optimization via risk adjustment
Appropriate revenue optimization via risk adjustment will enable payviders to compensate for taking on high-risk populations. Improper data integration practices hamper this process, ultimately affecting financials. A proper FHIR-enabled data platform supports data integration with disparate sources and enables analytics, allowing informed decisions about premium pricing, membership expansion, bid rate calculation, and other critical business and market choices.
End-to-end solution for provider performance improvement
Look for a centralized mechanism to implement and manage provider performance, goals, incentives, and oversight with advanced analytics to guide performance feedback. A highly configurable, end-to-end solution will empower health plans and provider groups to monitor and enhance provider performance. A solution should include pre-built KPIs and analytics across clinical quality, financial, operational, and utilization measures, giving users a unified view of all programs, processes, and performance measures. Other features to look for include artificial intelligence capabilities, various models that leverage data science to aid in decision-making for value-based programs with recommended benchmarks, targets, and compensation. Lastly, any solution should allow providers to manage their gaps and metrics independently via self-service interfaces and on-the-fly report building.
Performance management is one of the most critical areas to achieve Payvider value chain targets. Advances in technology, elevated healthcare standards, and increasing regulations make it imperative for payviders to adopt and create a more streamlined and efficient ecosystem.